Virtual reality gaming has been here for several years now, and despite the stable library of quality titles that are currently available, I have a confession to make. I… ummm… well, I'm just not way into it. I thought I would be… I mean, I have the headset and the games and EVERYTHING. I was SUPER excited when I played the early demos of the PS4 Virtual Reality headset.. even though the guy next to me LITERALLY vomited immediately afterwards, which kind of put a damper on the enjoyment. I immediately saw the potential within the platform. Granted, there is a moderately steep price of admission for either the Oculus Quest or the PSVR, but once purchased these devices are home to some of the most unique gaming experiences ever crafted. But, despite the massive leaps forward in technology that these headsets present, the root cause issue of my disinterest remains the same… they provide an enhanced, immersive, unique gaming experience at the cost of many of the reasons I chose to play games in the first place. Let me explain…
First and foremost, I am incredibly comfortable with playing games the old fashioned way… sprawled across a couch or chair, controller in hand, snacks off to the side… you know the drill. The VR experience requires a dramatic shift in the method of playing, typically involving the physical wearing of the VR headset as well as positioning my body in a manner that is optimal for the game being played. Playing VR games requires a certain level of physical movement as well as a specific posture for many of the games, which insures the player's movements match the desired on-screen actions. Which is just fine if I am playing a game called "Couch Slob After a Long Day of Work" (not an actual game by the way), but not so great if I am trying to play Iron Man VR. Additionally, I enjoy gaming for the couch co-op experience that many titles provide… but the only "cooperative" entertainment I have found so far is being made fun of by the others watching when my real-world movements look remarkably un-heroic while playing Iron Man VR. But, to be fair, I mean… Robert Downey Jr. is a tough act to follow. And remember the mess he made when HE was getting used to the suit? I am trying to do this in a living room after all… there is bound to be some collateral damage.
But beyond the comfort zone changes, moderately high cost of entry, potential motion sickness, and predominantly single-player nature of "Virtual Reality" gaming, there is another reason that my VR headset is gathering dust inside of my entertainment center. Let me preface this by saying that I have been an early adopter of EVERY emerging gaming technology simply because I love being on the frontlines of each… I played Nintendo's Virtual Boy and felt the retinal pain of living in a red-tinged matrix… I purchased the PS2 EyeToy at launch (bet you forgot about that one) and owned EVERY compatible game, even though they were almost all terrible. I was a HUGE advocate for the Microsoft Kinect and have secretly pined for it's return to glory for years. So why is my PSVR sitting in a cabinet, unloved and unappreciated at this very moment? Because, as much as I hate to admit it, I simply don't see a game out there that is worth sacrificing my current gaming experience for. And yes, that includes Beat Saber, as awesome as it is.
Keeping it VERY real… I would rather continue playing Super Mario 3D World with my wife, or perhaps start playing the Final Fantasy X/X2 remake she got me for Christmas. Or jump into a match of Halo 5 multiplayer with my best friend online. Or get back into any of the numerous games that are currently in our gaming rotation that don't require all the setup as well as the limitations of the VR platform. I appreciate the technology, I see it as both impressive and elegant in it's design and application, and for many people I think that it is the perfect gaming experience. Just, you know… maybe not for me. And, as I am sure you have already guessed, this leads us into a critical point in our "Knowing is Half the Battle" series… the importance and continued relevance of baptism. And for many of us it may fall outside of our comfort zone, fail to fit into our preconceived notions, or even seem like a relic of a bygone era… but understanding water baptism and it's role in our relationship with Christ is not only valuable, it is part of the required curriculum. Let's dive in…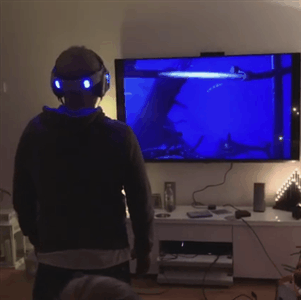 Over the last few weeks we have explored several of the fundamental foundations of the Christian faith, including the Bible, prayer, and repentance. If you haven't joined us for that part of the ride, I strongly encourage you to start with those links first as we will be picking up right where we left off here…
The Bible:
Pokemon Legends Arceus and Laying the Foundation: Knowing is Half the Battle (Part 1 – Matthew 4:1-11)
Prayer:
It Takes Two and the Purpose of Prayer: Knowing is Half the Battle (Part 2 – Luke 11:1-4)
Repentance:
But as "archaic" as the concept of baptism may seem in it's Scriptural context, it is an essential part of our salvation experience. Let's start with the basics…
Acts 2:37-39 Now when they heard this, they were cut to the heart, and said to Peter and the rest of the apostles, "Men and brethren, what shall we do?" Then Peter said to them, "Repent, and let every one of you be baptized in the name of Jesus Christ for the remission of sins; and you shall receive the gift of the Holy Spirit. For the promise is to you and to your children, and to all who are afar off, as many as the Lord our God will call."
The setting is only a few weeks after the resurrection of Christ, and in the Apostle Peter's largest sermon of his life there is no room for error. Thousands of souls hang in the immediate balance, and what happens next will become the blueprint for salvation from that day forward. Peter's "altar call" was simple, specific, and to the point… repent and be baptized in the name of Jesus Christ. And as we will see in the following Scriptures, this was not some one-off event. This is the pattern that every follower of Christ would follow for the rest of the recorded early church ministry… let's start with Phillip and the eunuch from Ethiopia…
Acts 8:34-38 So the eunuch answered Philip and said, "I ask you, of whom does the prophet say this, of himself or of some other man?" Then Philip opened his mouth, and beginning at this Scripture, preached Jesus to him. Now as they went down the road, they came to some water. And the eunuch said, "See, here is water. What hinders me from being baptized?" Then Philip said, "If you believe with all your heart, you may." And he answered and said, "I believe that Jesus Christ is the Son of God." So he commanded the chariot to stand still. And both Philip and the eunuch went down into the water, and he baptized him.
Okay… I guess that is a good start. But let's continue with the scientific method and try to replicate our results…
Acts 16:29-33 Then he called for a light, ran in, and fell down trembling before Paul and Silas. And he brought them out and said, "Sirs, what must I do to be saved?" So they said, "Believe on the Lord Jesus Christ, and you will be saved, you and your household." Then they spoke the word of the Lord to him and to all who were in his house. And he took them the same hour of the night and washed their stripes. And immediately he and all his family were baptized.
So we see that this was an act that is OUTSIDE of the decision to be saved, and occurred as an outward action that was precipitated by an inward decision. But how do we know that this is still valid today? Well… let's just ask Jesus Himself…
Matthew 28:18-20 And Jesus came and spoke to them, saying, "All authority has been given to Me in heaven and on earth. Go therefore and make disciples of all the nations, baptizing them in the name of the Father and of the Son and of the Holy Spirit, teaching them to observe all things that I have commanded you; and lo, I am with you always, even to the end of the age." Amen.
There are many more references, but honestly you are probably already getting bored. So, let's cut to the chase. What is the point of water baptism, and is it still relevant today? Is this some meaningless gesture that lost its meaning over time, or is it still a fundamental expectation for believers in our era? Is this somehow a part of the "repentance" process, or is it something else entirely? And most importantly, do I still have to do it? It's time for some answers.
Let's start with the One who provided our example on how we are meant to live this life… the Man Christ Jesus Himself. Before He began His first steps into His earthly ministry, Jesus went to visit His cousin John the Baptist to…. You guessed it, get baptized. In case you couldn't tell by his name, baptizing people was kind of his thing. So why did Jesus, who had NO sins to repent of, need to get baptized? Well, why don't we let Him tell us in His own words?
Matthew 3:13-15 Then Jesus came from Galilee to John at the Jordan to be baptized by him. And John tried to prevent Him, saying, "I need to be baptized by You, and are You coming to me?" But Jesus answered and said to him, "Permit it to be so now, for thus it is fitting for us to fulfill all righteousness." Then he allowed Him.
Jesus made it abundantly clear in one simple sentence… to fulfill all righteousness. But what does He mean by that? "Righteousness" isn't exactly a word that we throw around on a regular basis these days, so let's probe a little deeper by looking at what this word actually means in the original Greek…
Dikaiosynen – The approval of God, from the root word dikaios, in conformity to God's own being
In our modern era this may not seem to have a direct correlation, so let's stop and consider a word we DO understand… the word "Christian". The word "Christian" in Greek simply means "followers of Christ", which would imply we are following Him in ALL the steps He took to fulfill the approval of God on His life. Christ saw water baptism as a required expectation to meet the approval of the Father, and it looks like He was correct as we see in the following verses:
Matthew 3:16-17 When He had been baptized, Jesus came up immediately from the water; and behold, the heavens were opened to Him, and He saw the Spirit of God descending like a dove and alighting upon Him. And suddenly a voice came from heaven, saying, "This is My beloved Son, in whom I am well pleased."
This step, whether it was understood in its significance or not, was met with the announcement that God was "pleased" with this action. So we can understand that the act of water baptism is something that the Father appreciates and even expects, but we still don't know WHY. Is this some bizarre ritual, a leftover from some ancient custom, or is it something much more? Jesus did it, His followers performed it, and we were commanded to carry this forward. And now, thanks to the Apostle Paul, we finally have some exposition on this.

Romans 6:3-5 Or do you not know that as many of us as were baptized into Christ Jesus were baptized into His death? Therefore we were buried with Him through baptism into death, that just as Christ was raised from the dead by the glory of the Father, even so we also should walk in newness of life. For if we have been united together in the likeness of His death, certainly we also shall be in the likeness of His resurrection.
And there it is… it is both practical and symbolic. It is our statement to the Father as well as ourselves that we are consciously choosing the path of death to ourselves and our own way of thinking, and choosing His way and the path to eternal life through Him and with Him. It is symbolic of the death and resurrection of Christ as well as practical in understanding that we have entered into a committed relationship with the Father as the one we are fully dependent on.
It is called a "new birth" or being "born again" for a reason… just as the act of "water breaking" is the universal symbol that a child is about to be born, the "breaking of the water" for a believer in Christ is the moment that heralds a new birth into the Kingdom. Jesus didn't even BEGIN to try doing anything for the Father until He had completed this pre-requisite… and He didn't even need to do it for the purposes of repentance. Just as Christ chose to be birthed physically through Mary's womb as well as spiritually through water baptism, we are commanded to do the same. And the reason for both of His "births" was to bring Him and us together in unity as members of ONE family… a family we are CHOOSING to be born into.
Here is the straight-forward truth… like my struggles with the virtual reality experience, water baptism is meant to push us out of our comfort zone and start seeing our relationship with the Lord as more than something we pick up at our convenience and put away when it no longer pleases us.  It is an entirely new lifestyle that will require some discomfort, some stretching, and perhaps even some embarrassment as others observe our attempts to explore within its unique confines.  The actions we take within this new life will look and seem strange to those who are not in the VR experience with us… they may seem a bit awkward and even a little bit silly.  Our relationship with the Lord is not something that can be played in couch co-op mode either… we cannot exist off of our spouse's faith, our parent's faith, our grandparent's faith, or anyone else's.  It is a personal, one-on-one, solo experience that may be played in conjunction with others who are ALSO playing the game virtually, but we are still solely responsible for our actions with our headset within this virtual space and nobody else can play this game on our behalf.
Water baptism is the ultimate immersive experience… it is an action that simulates Christ's death and resurrection in a way that goes beyond mere words as a confession of our faith and represents the complete abandonment of our reliance on ourselves, our works, or our ability to save ourselves through any other means. It is accepting a NEW reality, one that may exist beyond our ability to comprehend but is the means of salvation nonetheless. And it is an act that joins us into a NEW family, and makes us ONE with our brothers and sister in Christ across the entire planet.
Oh wait…I see a hand in the back. Yes? What is your question? Oh yes…. The age-old "What about the thief on the cross?" predicament. True, the thief on the cross (Luke 23:39-43) is often held up as an example of someone who did not get baptized but was still "saved", but the difference is that he was kind of in the middle of being crucified, so he didn't really have a lot of choice in the matter. I suppose if you are in the middle of being crucified while you are reading this, you would fall under this same "exception clause". But if not… God has made it clear throughout the Bible that we are responsible for our own decisions and choices, not those that were out of our control (Romans 1:20). There is a world of difference between "unable to comply" and "unwilling to comply". And for those of us who are able but unwilling, we are knowingly choosing not to follow something that was given as a command, not a recommendation. And most importantly, we are rejecting the opportunity to become one with our fellow believers in Christ, a unifying action that is a CHOICE to belong to each other as members of one eternal family.
The actions I take when playing a VR game may look crazy to those on the outside, but to those on the inside of the game they are normal and actually ESSENTIAL to my survival within that construct. It takes some action outside of my comfort zone and my typical way of doing things. But there is a unique and rich reward if I am willing to take the plunge, break those waters, and press through into that new dimension. Taking the "dive" into water baptism is found hand-in-hand throughout the salvation experiences documented in the New Testament for a reason… it is not because we HAVE to, it is because we GET to. It is a choice… a choice to choose life over death. A choice to join hand in hand with the family of Christ, practically and symbolically. It is a choice to demonstrate our acceptance of the death to ourselves and our way, and solidify our commitment to accept the Father and His way. It is an act of submission to be "birthed" as a child into the Kingdom of God. It is the luxury of a choice that we do not DESERVE, and that should never have existed. And just like the VR experience, it will take looking at everything about the way we play this game entirely differently. It doesn't mean that you are going to look up and the heavens are suddenly going to split open and you are going to hear some dramatic voice… it just means you will be playing the game from an entirely different perspective than you did before… from the INSIDE. Take the dive and break those waters… there is a community here that has been waiting for you with open arms to welcome you into the family.
Like us? Follow us on Instagram, Twitter, Facebook, or YouTube for our articles and videos!
Facebook: Finding God in the World of Video Games
Twitter: @FindingGodIn_VG
Instagram: Finding God in Video Games
YouTube: Finding God in the World of Video Games
Website: FindingGodInTheWorldOfVideoGames.com
Video versions of our articles are available here: