Last week Nintendo dropped not one, not two, not three, but FOUR NEW… wait, no it was just three. But still… THREE huge new Pokemon announcements including remakes of Pokemon Diamond/Pearl as well as the most exciting reveal… an all new adventure named Pokemon Legends: Arceus. And regardless of your level of interest in all this Poke-Mania that has been running wild, this new title is going to go somewhere that NO Pokemon game has gone before… all the way back to the very beginning. Pokemon Legends: Arceus is set hundreds of years before Pokemon Gyms were located in every town and fancy Poke-balls were designed to capture our favorite monsters in the wild. The aesthetic here is clearly evoking a simpler time, with wooden Poke-balls powered by steam replacing our electronic gizmos and nary a Pokedex to be found. It is exciting to go where we have never gone before to explore the roots of this massive franchise, and it makes me wonder if Nintendo is prepared to do this with even MORE franchises.
Just imagine… playing "Mario Legends" and taking Mario through plumbing school, or maybe traveling back to the past to see what set Samus Aran on her path to intergalactic bounty hunting prominence in Metroid Legends… wait. Maybe let's leave Metroid alone after that horrific Metroid: Other M disaster. Just give me a Metroid: Prime trilogy remaster and we will call it even. But going back to the past to better understand the present is not just a great idea in video games… it is critical for us in our present, real-life predicaments as well. And as primitive as the Bible may seem to be to our modern, high-tech, digital generation, the foundational truths that exist within it are not only important, but essential to the battles that lie ahead for each of us.
Thanks to G.I Joe, we are all probably familiar with the phrase "Knowing is half the battle". The reality is that what we don't know can and WILL be used against us by the enemy of our souls, and he isn't going to take it easy on us simply because we lack the knowledge to defend ourselves. Unlike our video game experiences, our enemy doesn't "level up" with us… he is dangerous from day one and certainly not to be taken lightly. And as we will see in the one-on-one battle between Christ and satan at the very beginning of Jesus's ministry, our enemy is not only incredibly familiar with our top weapon, but he knows how to wield it himself.
Matthew 4:1-11 Then Jesus was led up by the Spirit into the wilderness to be tempted by the devil. And when He had fasted forty days and forty nights, afterward He was hungry. Now when the tempter came to Him, he said, "If You are the Son of God, command that these stones become bread." But He answered and said, "It is written, 'Man shall not live by bread alone, but by every word that proceeds from the mouth of God.' " Then the devil took Him up into the holy city, set Him on the pinnacle of the temple, and said to Him, "If You are the Son of God, throw Yourself down. For it is written: 'He shall give His angels charge over you,' and, 'In their hands they shall bear you up, Lest you dash your foot against a stone.' Jesus said to him, "It is written again, 'You shall not tempt the Lord your God.' " Again, the devil took Him up on an exceedingly high mountain, and showed Him all the kingdoms of the world and their glory. And he said to Him, "All these things I will give You if You will fall down and worship me." Then Jesus said to him, "Away with you, Satan! For it is written, 'You shall worship the Lord your God, and Him only you shall serve.' "Then the devil left Him, and behold, angels came and ministered to Him.
There is a lot to absorb there, but we are going to stick to the second of the three specific temptations that satan levied at Jesus here in the wilderness. After Christ rebuffed the initial temptation to satisfy his fleshly needs with a divine shortcut, the devil used the very words of the Bible itself to lob a grenade at the Son of God's feet. There are few things that can bring a shiver to your spine faster than reading that the devil himself uses the words "It is written". Clearly he understood the power of the Scripture and was familiar enough with it to quote it… and more importantly, he is very comfortable wielding the very sword that we have been instructed to use to throw us off of our game.
The critical note for us here is that when this attack happened, Jesus wasn't exactly carrying around a copy of the Bible on His Kindle or iPad and to perform a quick search for "Verse about dashing foot against stone". He didn't have a backpack full of scrolls to pull out and say, "Time out, devil… let me find my scroll that has the Psalms in it and I will have an answer for you". He had to have an answer primed and ready, because our enemy isn't playing some turn-based RPG game with us where he patiently waits for his turn to attack. Jesus had to know not only the verse that satan was referencing AS WELL AS the context of it, so he could recognize the deception present as well as have a suitable Biblical response.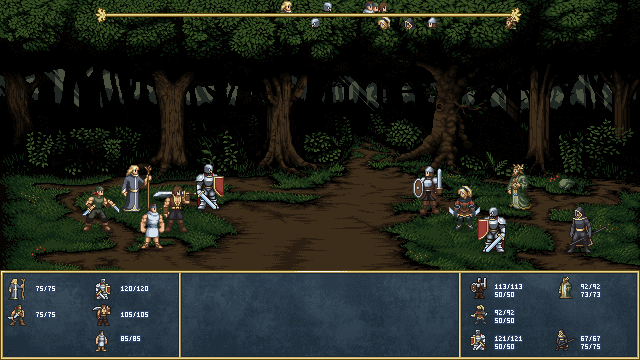 We have been given an incredibly potent weapon in the Word of God (Hebrews 4:12), and regardless of how archaic it might feel to those who are unfamiliar with it, it is the primary weapon we have been provided with to attack our enemy (Ephesians 6:17). It is also a weapon that our enemy knows and can abuse if we are trying to use it without truly understanding it. As handy as it is to have an electronic copy of the Bible on a device for reference or be able to quickly "Google" important verses on our phones to provide a quick answer to a question, the reality is that most of the time that we are in need of the wisdom of the Scriptures we do not have the luxury of searching for a response. It is in that fleeting, perishable moment that someone asks us for advice, or an adversary treats us poorly, or maybe a temptation strikes in a moment of personal weakness. In those times, it is not enough to have ACCESS to the Bible… we must have previously absorbed it, practiced with it, and learned how to use it.
John 14:26 But the Helper, the Holy Spirit, whom the Father will send in My name, He will teach you all things, and bring to your remembrance all things that I said to you.
The reality is that as much as the Spirit of God is a present help in our time of trouble (Psalm 46:1), He cannot bring to our REMEBERANCE things that we have not previously read. That is kind of how "remembering things" works. You kind of have to have SEEN it before you can remember it. We cannot recall lessons we have not learned, and we certainly are not able to do warfare with an incredibly skilled enemy if he is more familiar with our weapons than we are. Too many times I know I have tried to fall back on my own knowledge or capabilities to handle temptations or provide advice to a friend in need… and in every one of those occasions my best intentions led to complete failure. I let myself down, I let others down, and there was a heavy cost to my arrogant treatment of the enemy who laughed at my cavalier "Han Solo" attitude about the "ancient" weapon of the Bible.
Much as Vader laughed at Han Solo's feeble attempt to take him down with his "modern" blaster, our enemy truly understands that the Word of God is the most powerful weapon in our arsenal, and as a result he has done everything in his power to damage the Bible's reputation, minimize it's impact, and undercut it's authority. No other tome has withstood the test of time, and the truth is that nothing else will stop our enemy dead in his tracks, which explains his significant efforts to diminish it. Having a sword you aren't familiar with using is almost as dangerous as entering into combat without a weapon at all, and this is why it is SO critical that we take the time each and every day to read it, refresh ourselves on it, and remain battle-ready at all times.
It is not old-fashioned simply because it is old, and it is not out-dated simply because it predates each and every one of us. The reality is that if it was no longer an essential weapon for us, our enemy wouldn't have bothered to become trained in it's use. Each day we must practice with it, learning how to use it in every situation. It is our defense against every temptation of our flesh as well as the devil… and we know that because it is the ONLY weapon Christ Himself used when enduring all three attacks in His wilderness battle. Just like in Pokemon Legends: Arceus, going back to the beginning is not a waste of time… it is actually going to provide understanding and a foundation for everything we are currently enduring in our modern age.
I want to encourage you today to spend time getting to know your weapon and become skilled in the art of using it… read at least a few verses a day to ponder as you go about your daily routine. Allow the wisdom that guided Moses, David, and Christ Himself to fill our minds and hearts with the knowledge that still holds up today in our supposedly more civilized generation. Meditate on the hard to understand portions and allow the Spirit of God to do His work and build our understanding. Hide the Word of God in your heart so that when temptation comes, it is present and ready for a skillful defense. The Bible is a weapon in the hands of either us or our enemy… we must decide who will be more prepared with it.
Like us? Follow us on Instagram, Twitter, Facebook, or YouTube for our articles and videos!
Facebook: Finding God in the World of Video Games
Twitter: @FindingGodIn_VG
Instagram: Finding God in Video Games
YouTube: Finding God in the World of Video Games
Website: FindingGodInTheWorldOfVideoGames.com
Video versions of our articles are available here: