Sony has finally ripped the curtain away from one of the worst-kept secrets in the gaming industry… the Sony PSVR2. While the original PlayStation VR headset certainly fared better than most of Sony's attempts at motion control (RIP to the ill-fated PS2 EyeToy and PS3 Eye Camera), it certainly needed some additional power in this new console generation if it is going to keep up with the Oculus Quest and the HTC Vive in the race for VR supremacy. While the PS5 console itself is still challenging to find worldwide, demonstrating the future of Sony's vision for VR through a commitment to this new headset and controller system is important… important enough to announce that one of Sony's flagship titles will debut on this new platform. "Horizon VR: Call of the Mountain", a new game in the immensely popular Horizon series will be EXCLUSIVE to the PSVR2, and if this is a sign of things to come then we can anticipate that the future of VR is looking so bright that we will need to wear shades… well, I mean, NOT at the same time as when we are wearing the headset. That would be uncomfortable and make it very hard to play. They would probably break, actually. But when we are NOT wearing the headset, THAT is when we will wear the shades. You know, because the future is so bright… I feel like I may have run that one into the ground… oh well.
VR is a funny thing… especially when you are watching someone else play it. The player wearing the headset sees and reacts to things that only they can see, while everyone else in the room watches them punch and kick the air or dodge invisible objects. To the player, the images on the screen and the sounds coming through the headset can be nearly indistinguishable from reality… and those who are exceptionally sensitive can actually experience authentic motion sickness complete with ALL of the VERY real side-effects (you might want to keep a wastebasket handy if it is your first time). The VR realm is a truly immersive way to game, and while we are in that space these objects that are invisible to others define our reality for the entire period of time that we are wearing the headset. Viewing the world through this specific lens may be a fun and unique way to experience our games, but all too often we apply a VR headset to ourselves in the real world in a way that is much less enjoyable and certainly much less beneficial. And as we wrap up this series on forgiveness, we have one person left to forgive on our list. And that individual may be the most difficult of all… let me explain.
When playing a VR game we are fighting enemies nobody else sees, dodging obstacles that are only real to us, and moving in ways that don't make a lot of sense to those who are not viewing these events through the same headset. We remain tethered to the console through the helmet we are wearing, and the reality that it presents to us seems so real that it limits our movement… we may have plenty of room to walk in the real world, but the headset is presenting us with an invisible cliff that prevents us from taking one more step forward. We cower from an enemy that is so massive that we can't even fully see it without tilting our head, but in the real world we are alone in the room with monsters that only exist within the headset. And here is a critical truth about forgiveness… much like these virtual reality battles, we are engaged in a war with things that don't actually exist. WE see them… to US they are very real. But to everyone else in the room they are non-existent limitations that we are applying to ourselves through a virtual reality headset we have chosen to put on… and one that can be removed at any time we choose.
As we wrap up this series, we need to look at one of the most challenging people to forgive on the planet… not those who have hurt us and are seeking restoration, and not even those who did us harm and never apologized. I am talking about US. The reality of the forgiveness we receive from the Lord is comprehensive… when we seek forgiveness from Christ we are forgiven fully, completely, and with finality. But as long as we choose not to forgive ourselves and continue to view the world through the limitations of the VR construct we have created, this viewpoint will limit where we can go, what we can do, and if we aren't careful even our own relationship with the Lord can be defined by this fake reality we have chosen. Before we move forward, if you didn't join us for the first two parts of this series, they can be found here:
When it comes to forgiveness, many of us are guilty of believing it is for everyone EXCEPT for us. Sure, in concept we have accepted the Lord's forgiveness of our sins, and we may even "talk the talk" of being free from our past. But in our quiet time, when we are alone with our thoughts… it is still there. We see those shameful scenes play out in our mind's eye and wonder how God could possibly love someone who did THAT. We stand there in the shower and plead with God to forgive us for things we have surrendered to Him LONG ago. We sit there listening to a message and wonder how God could possibly use us when we completely failed both Him and others. We love seeing others receive the Lord's unmerited and abundant mercy… but we are only willing to take one small unworthy sip from His cup. We celebrate seeing others turn their lives around for Christ, but we don't extend this same grace to our own souls. It is time to finish this series on forgiveness by taking the most challenging step of all… forgiving OURSELVES.
When most of us look back at the patriarchs of our faith in the Old Testament, we tend to gloss over some things. Like how King David, the man after God's own heart, callously had one of his most loyal soldiers killed so he could cover up the adultery he had committed with that poor man's wife (2 Samuel 11-12). What about good ol' Father Abraham, who not only got impatient with God and took matters into his own hands when choosing his future heir (Genesis 16), but he also lied about the identity of his wife because he didn't fully trust in the Lord to protect him (Genesis 20)? Or how Moses, the deliverer of Israel, was only available for his mission of deliverance because he was a wanted fugitive on the run for murder (Exodus 2)? We could go on and on, but the point is we fully believe all of these souls are in heaven now, forgiven for their many sins through their obedience to offer the animal sacrifices that were required at that time. So… if we can believe they were forgiven because some random sheep died for them, why do we struggle to accept the sufficiency of the forgiveness being offered for us by the death of God's own Son?
Let's start with the actual Greek definition of the word Paul used when he commanded us to "forgive" in Ephesians 4:32:
Ephesians 4:32 And be kind to one another, tenderhearted, forgiving one another, even as God in Christ forgave you.
charizomai – (from apó, "away from" and lýō, "to loose, release") – to let go; release (discharge), dismiss.
This is often the hardest part of that verse to truly comprehend… that God in Christ forgave us. This definition has legal connotations similar to setting someone free from crimes or debts they are no longer held responsible for. As forgiven believers in Christ, the charges against us have been DISMISSED and we have been RELEASED from those sins… not just in terms of our final destination in heaven, but here on earth as well. They no longer EXIST in any part of reality… from His view it is as if they never happened. And He didn't simply free us from our sins so we can live with Him in eternity… He did it so we can serve him in freedom of mind, soul, and spirit right here on earth. Like those virtual reality obstacles in a VR headset, He has given us the ability to remove the VR visor from our eyes and see the world the way He sees it… the way He sees US. Those things that restrained us are not REAL… from His viewpoint they don't exist. But as long as we choose to place the limitations of that headset back over our eyes, all of the freedom Christ purchased for us doesn't do us any good at all… we remain imprisoned in this virtual reality we feel unworthy to escape from, stubbornly fighting invisible enemies only we can see.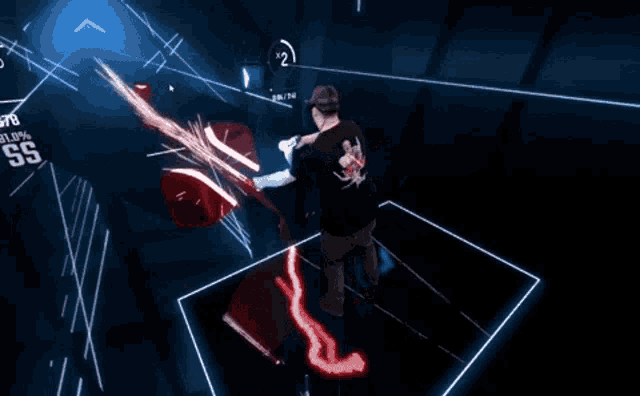 Hebrews 9:12-14 Not with the blood of goats and calves, but with His own blood He entered the Most Holy Place once for all, having obtained eternal redemption. For if the blood of bulls and goats and the ashes of a heifer, sprinkling the unclean, sanctifies for the purifying of the flesh, how much more shall the blood of Christ, who through the eternal Spirit offered Himself without spot to God, cleanse your conscience from dead works to serve the living God?
When we are unable to forgive ourselves for sins that God has already released us from, we may be unaware of what we are truly saying. Failing to forgive ourselves is more than simply allowing our past sins and mistakes to hang over our heads and decrease our feelings of value… it is an unconscious act of devaluing the very blood of Christ. It is a statement that His sacrifice on the cross was not sufficient to cover our sins, and that His power is too weak to cleanse us of our wretched deeds. Maybe it is good enough for others… but it isn't good enough for ME. Let me say this as definitively as any sentence I have ever typed… no matter what our sins were, they will NEVER be greater than Christ's absolute power to wash them away. The enemy's foothold in our conscience is NOT stronger than Jesus's absolute victory over him. When we continue to dwell on our past sins and allow them to limit our feelings of self-worth and confidence in Christ, we are like a prisoner who has been released from incarceration and absolved of their crimes… but they choose to continue to sit in that same open jail cell and refuse to leave. It is time to remove those old broken chains from our wrists and accept the freedom that Christ has earned for us… a clean conscience, absolution from our sins, and a new life in Christ here on this planet AND in the life to come.
Isaiah 43:25 "I, even I, am He who blots out your transgressions for My own sake; And I will not remember your sins.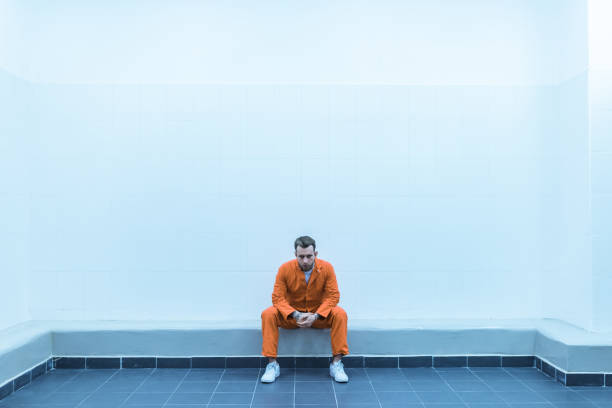 1 John 4:15-19 Whoever confesses that Jesus is the Son of God, God abides in him, and he in God. And we have known and believed the love that God has for us. God is love, and he who abides in love abides in God, and God in him. Love has been perfected among us in this: that we may have boldness in the day of judgment; because as He is, so are we in this world. There is no fear in love; but perfect love casts out fear, because fear involves torment. But he who fears has not been made perfect in love. We love Him because He first loved us.
The plain and simple truth about forgiveness is that it is just like all of the other incredible gifts of grace we receive from the Lord… we don't deserve them, we cannot earn them, and most importantly we cannot give them to others until we have fully received them ourselves. We cannot adequately show God's love and grace to others unless we have completely embraced His love and grace for our own souls… and we cannot provide full and true forgiveness to others if we have not personally claimed the freedom of absolute forgiveness that He offers His repentant children. Do we deserve it? Of course not. None of us do. But the places we are going to cannot be reached while we are still wrapped up and entangled in a virtual mindset that keeps us captive, tethering us to a past we have been released from.
The new Sony PSVR2 headset is going to be a lot of fun, and it will take us to some new places that the original PSVR headset wasn't powerful enough to take us to. But even with this upgraded technology, the VR gaming experience still represents a world that only the players wearing the visor are able to see… and the rest of us on the outside will continue to watch these players do battle with invisible forces that only they can perceive. Our view of our past sins is just like that old VR headset we used to see the world through… and stubbornly continuing to wear that headset or even a new updated one out of some misplaced sense of responsibility or guilt will never take us to the new places that we are destined to explore. We have been looking at ourselves through the broken and distorted mirror of that VR headset long enough… and we have fought enough battles against shadows that only we can see. It is time to forgive ourselves with the same level of forgiveness that Christ extends to ALL of God's children. Jesus didn't die the most savage death ever recorded so we could walk on eggshells through life in fear that His sacrifice wasn't good enough to fully free us. It was enough for me, it was enough for you… it was enough for ALL of us (John 8:36). Let's forgive ourselves today the same way Christ has forgiven us… without restrictions.
Like us? Follow us on Instagram, Twitter, Facebook, TikTok, or YouTube for our articles and videos!
Facebook: Finding God in the World of Video Games
Twitter: @FindingGodIn_VG
Instagram: Finding God in Video Games
TikTok: @FindingGodInVideoGames
YouTube: Finding God in the World of Video games
Video versions of our articles are available here: