If you had told me years ago that the act of watching other people play video games would become an industry that is worth over $3 billion dollars annually and growing, I would have never believed you. It just sounds like such a crazy idea… a crazy idea that has changed the world of video games forever. From televised competitions for elite players who compete for fame and fortune to the humble gaming setups of simple gamers like you and me playing from home while others spectate, watching other people play video games is one of the fastest growing sectors of viewed entertainment on the planet. Gamers all over the world are putting the controller down and picking up their remote control so they can watch, listen to, and even interact with other gamers while they play. For the creators, it is an opportunity to find an additional source of revenue with the dream of "going professional"… and for the viewers it is a form of reality television that connects them even deeper to their hobby as well as fellow gamers who share their interests. And the "streaming effect" has not been lost on game developers, who are now in a constant race with each other to create titles that are designed specifically with a streaming audience in mind.
At the moment I am writing this over 2 million people across the planet are watching other people play video games on Twitch, the most well-known video game streaming platform. 65 MILLION hours of game streams are watched DAILY just through this service, and the numbers continue to grow exponentially every year. Video game consumption has rapidly grown from an interactive hobby to a passive form of entertainment, complete with it's own stable of "gaming celebrities" who are famous for either their impressive gaming skills, their impressive LACK of gaming skills, or simply their engaging personality and running commentary while they play. And thanks to the accessibility of being able to watch these gaming exploits from just about any phone, tablet, screen, or console, we can all enjoy watching a fellow gamer somewhere around the world playing a video game we have either previously played or are currently playing any time we want.
I suppose that is the draw, isn't it? That feeling of connection to our shared hobby and our fellow gamers no matter where we are currently at on the planet, or how bad our day is going. It is the opportunity to see other people… REAL people… all playing the exact same games we are playing, and often struggling in some of the same spots we have struggled with. Sometimes they overcome those challenges and encourage us to try again by using the skills and techniques we just observed, and other times they connect with us by letting us watch as they fail to find success, at least on this day. And in a world where almost every picture is edited beyond recognition, every video is over-produced, and everybody seems obsessed with presenting the most perfectly plastic version of themselves, this transparency and reality is refreshing. Twitch and other video game streaming platforms are growing at a record pace because people are looking for something REAL to watch and connect with… and not just in the streaming video game realm. Let's dive a little bit deeper on that topic…
As followers of Christ, it can be difficult to reconcile the losing battles that we endure on a daily basis with the knowledge that we serve an all-powerful God who doesn't always answers our prayers the way that we would prefer. Many times my personal prayers go unanswered, my loved ones are not miraculously healed, and my situation does not improve. And those disappointments in and of themselves can be challenging enough… but then we also have to deal with the honest questions from those who are outside of our faith. We are not even given the luxury of struggling with our own feelings of confusion and hurt privately without having to continue to act as "brand ambassadors" for Christ, dishing out phrases that ring hollow in our hearts such as "His ways are higher than our ways" between the tears. How do we balance this concept of constantly "streaming our lives" to others so we can reach them for Christ while simultaneously acknowledging that there are times that we are struggling to simply keep this candle lit? We are heading into the DEEP waters now… and the loyal prophet Ezekiel is about to "livestream" one of the deepest pains one can endure in a manner that is nearly incomprehensible.
Ezekiel 24:15-18 The word of the Lord came to me, saying, "Son of man, behold, I take away from you the desire of your eyes with one stroke; yet you shall neither mourn nor weep, nor shall your tears run down. Sigh in silence, make no mourning for the dead; bind your turban on your head, and put your sandals on your feet; do not cover your lips, and do not eat man's bread of sorrow." So I spoke to the people in the morning, and at evening my wife died; and the next morning I did as I was commanded.
Ok… hold on. The prophet Ezekiel has been obediently serving the Lord during some of the most challenging times recorded in the Old Testament, specifically the overthrow of Israel and subsequent deportation to Babylon. Israel had repeatedly fallen into idolatry and paganism and were finally facing the consequences of their years of disobedience to the Lord, and Ezekiel had the luxury of a front row seat to the entire show. Needless to say, Ezekiel's messages of the Lord's judgment and the impending destruction of what remained of Israel were not climbing up the Spotify playlist charts of his time. He was given incredibly unpopular sermons to preach and definitely pulled the short straw on the time period he was living in. And on top of that, his life was about to become a piece of performance art in the WORST possible way… he was going to lose his wife, the love of his life, and to compound this tragedy he was not even permitted to publicly mourn her. That's… that's heavy.
Ezekiel 24:19 And the people said to me, "Will you not tell us what these things signify to us, that you behave so?"

Ezekiel 24:24 Thus Ezekiel is a sign to you; according to all that he has done you shall do; and when this comes, you shall know that I am the Lord God.
The Lord was sending a message to His people… and Ezekiel was the chosen instrument to deliver that message. This was not a message that could be casually posted to his social media or shared in a slickly produced video… he had to LIVE it. And Ezekiel did not have the luxury of doing this on his own terms or in a private setting, either. He had to stream his response to this heartbreaking and life-altering event for all to see, because HOW he responded to the event WAS the message. Oh… were you going to flip ahead a few chapters and see if there is a happy ending to the story, maybe a miraculous resurrection or a convenient plot twist in which Ezekiel's wife didn't really die? You are going to have to keep flipping through a LOT of pages… because that ending isn't in there. She really dies, he is really forced to move on without her, and he has a lot more work to do and messages to share… and in spite of this horrific tragedy, Ezekiel courageously carried on for ALL to see.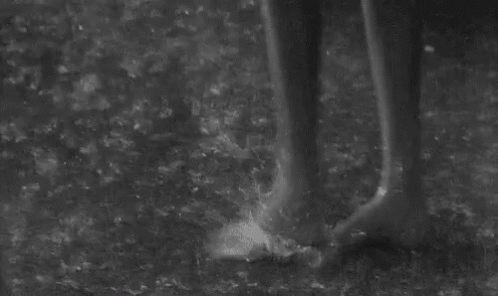 This is not always easy to understand nor is it easy to accept, but as followers of Christ we are constantly live-streaming the impact of Christ in our lives through both the good times AND the bad. These glass houses we live in are for the purpose of demonstrating more than just the incredible triumphs we experience… it is for us to allow others to see us struggling through these tough times. It is our opportunity to maintain our faith and continue to share His message even when He has chosen NOT to calm the storm. As tempting as may be to turn the camera away when we feel our head starting to dip under the water, the truth is that it is THAT moment when His strength is at it's MOST visible in our lives. His power is most potently displayed in our WEAKNESS, and the message could not be more clear… it is in THAT moment and ONLY that moment that we can say just as Job did in Job 13:15, "Though He slay me, yet will I trust Him."
Romans 8:35-39 Who shall separate us from the love of Christ? Shall tribulation, or distress, or persecution, or famine, or nakedness, or peril, or sword? As it is written: "For Your sake we are killed all day long; We are accounted as sheep for the slaughter." Yet in all these things we are more than conquerors through Him who loved us. For I am persuaded that neither death nor life, nor angels nor principalities nor powers, nor things present nor things to come, nor height nor depth, nor any other created thing, shall be able to separate us from the love of God which is in Christ Jesus our Lord.
The reason people enjoy watching other gamers play video games isn't because those other players are perfect… as a matter of fact, some of them aren't even very good. But that is what makes them relatable, because the humanity of the player is on full display, for better or for worse. We watch them and root for them through the winning, the losing, the trying, and the dying… and many times we feel even more connected to them through the shared experience of watching them continue to carry on, even after their most challenging setbacks. And as believers, we don't simply CARRY the message of Christ… we ARE the message. Our lives, being lived in service to Him, IS the message… many times the only message that others will ever hear. His message isn't displayed best through our carefully framed pictures of a life lived in flawless perfection, but in the reality of a life lived openly and honestly… through all of the heartbreak and unanswered prayers.
Don't be ashamed of the scratches and chips that seemingly mar the surface of your vessel… we are ALL damaged here. That is WHY we need the Lord… not because He has made us unbreakable, but because He makes ALL things beautiful in HIS time (Ecclesiastes 3:11)… even the broken and hard to explain parts. Stream this message through your life today for all to see… those who are watching us and following us are not looking for a flawless believer, they are looking for an authentic one they can actually relate to. In the rain and through the pain, be a beacon of hope for those who are still looking for a port in their storm… even in the midst of your current struggle. The Lord may not always silence the wind and the waves, but He has never allowed a single one of His children to face them alone.
Like us? Follow us on Instagram, Twitter, Facebook, TikTok, or YouTube for our articles and videos!
Facebook: Finding God in the World of Video Games
Twitter: @FindingGodIn_VG
Instagram: Finding God in Video Games
TikTok: @FindingGodInVideoGames
YouTube: Finding God in the World of Video games
Video versions of our articles are available here: