If you missed out on some of the classic gaming experiences that fundamentally shaped the video game industry we know and love, you are about to have the opportunity to fill in the gaps of your missing video game education courtesy of Nintendo. Have you heard all the talk about Legend of Zelda: Ocarina of Time but never actually played it? Or perhaps you only know Sonic the Hedgehog from his lesser 3D titles and never experienced his games in their original 2D glory? Well, whether you missed out on the past or are simply looking forward to reliving it, the most recent Nintendo Direct dropped some seriously big news for all of us, adding an expansion to their current Nintendo Online membership that is opening the floodgates of the Nintendo 64 and Sega Genesis libraries to their already massive retro offerings from the NES and SNES. While this does come at an expanded cost to the current online membership, there is something for EVERYONE here… classics like Mario 64, hidden gems like Ecco the Dolphin, and even a full expansion to Animal Crossing for those who prefer their gaming feet planted firmly in the present. I will permit a gleeful squeal at this time… but only one. Let's keep a sense of decorum around here…
Throwing open the doors to all of these iconic games and making them available to the current generation of gamers is fantastic news, and honestly if you had told many of us years ago that a console would exist that did nothing but stream classic NES, SNES, Genesis, and N64 titles we would have bought it without asking for it to do much of anything else. But this also comes at a risk… a risk that always comes when looking back in the past. The truth is that not all of these games may have aged as well as we think they did… there are parts that are going to be visually unappealing and graphically disappointing. Gameplay bugs and framerate drops that would never be acceptable in our current games are going to be more noticeable than ever, even in our favorite titles… and when we jump back into the driver's seat of some of these games we may find that the ride isn't quite as perfect and amazing as we remember it. Even the games we hold in the highest regard may look less remarkable when viewed through the lens of time with all of our new knowledge and current technological advancements, and these "monuments" that once represented the glory days of gaming may not hold up as well under the scrutiny of today's magnifying glass.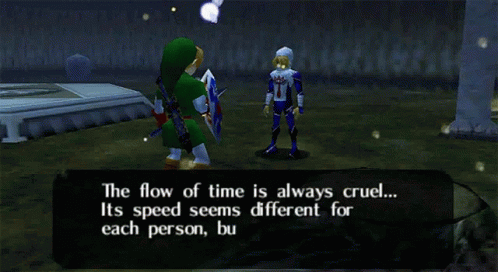 Very few things these days "age well"… from opinions that suddenly seem out of place to decisions that are impossible to understand in the rear view mirror, the past can be a mixed bag for all of us to reach into. Will we find a modern masterpiece such as Majora's Mask? Or will we grab something that is better off forgotten… a horrifically broken and eternally embarrassing beast like Bubsy 3D? But just like dusting off these Sega Genesis and N64 classics is a good idea for multiple reasons, I am going to ask you to take a walk through memory lane with me today as we take a deeper look at a few more "monuments" from the past.
The Bible is packed full of "monuments"… typically these were physical pillars and rock formations that were deliberately placed to provide a reminder of an event worth memorializing. Many times what contributed to that event was… well, let's just say less than stellar. For example, in Genesis 28 we find Jacob, the destined prince of Israel, having just committed an act of deception and betrayal on his own father for the purposes of stealing his brother's blessing and birthright. It was not his best day. And because of Jacob's actions his brother Esau had sworn to kill him… and you thought YOU had "family issues". Well, Jacob was full of common sense and decided he wasn't going to hang around and get murdered to death, so he packed up and headed out. But as Jacob ran away from the poor choices and repercussions of his past, he found himself on a collision course with the Almighty… and a destiny that was still his for the taking.
Genesis 28:10-15 Now Jacob went out from Beersheba and went toward Haran. So he came to a certain place and stayed there all night, because the sun had set. And he took one of the stones of that place and put it at his head, and he lay down in that place to sleep. Then he dreamed, and behold, a ladder was set up on the earth, and its top reached to heaven; and there the angels of God were ascending and descending on it. And behold, the Lord stood above it and said: "I am the Lord God of Abraham your father and the God of Isaac; the land on which you lie I will give to you and your descendants. Also your descendants shall be as the dust of the earth; you shall spread abroad to the west and the east, to the north and the south; and in you and in your seed all the families of the earth shall be blessed. Behold, I am with you and will keep you wherever you go, and will bring you back to this land; for I will not leave you until I have done what I have spoken to you."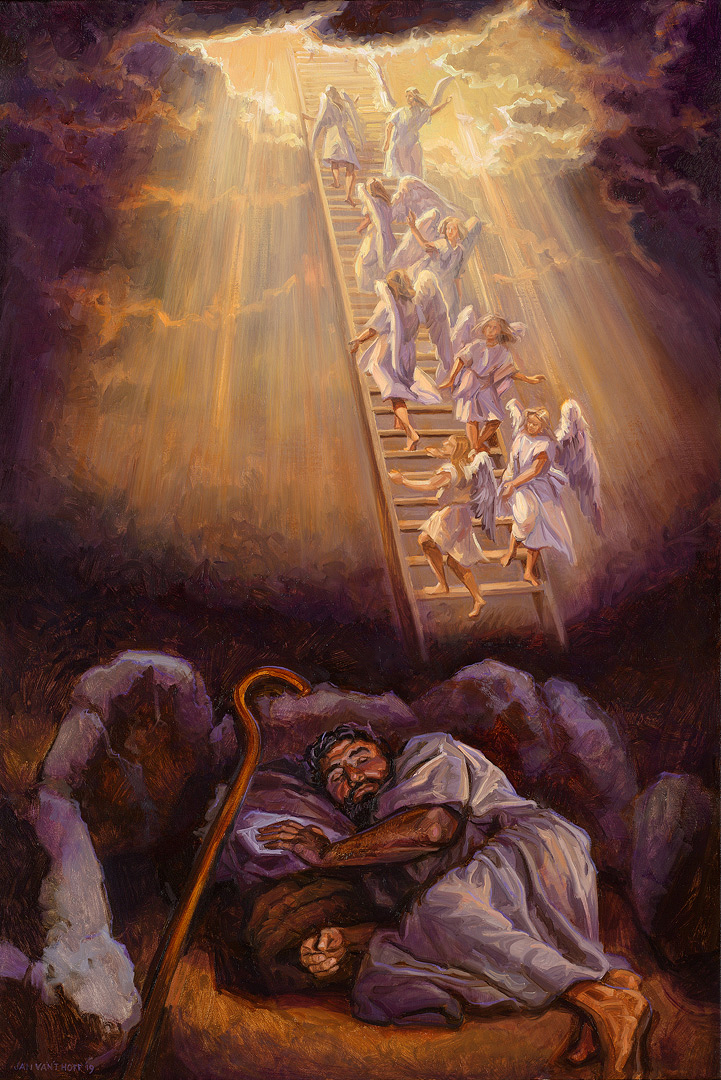 The Lord came to Jacob, even at this incredibly low point in his life, and reminded Jacob that he had been CHOSEN. Yes, Jacob had messed up… BADLY. But the destiny that had been placed on his life had not been altered… he was meant to bless the entire EARTH through his descendants. Jesus Christ was a future great-great-great-GREAT-grand-child of this wayward soul, and the entire human race would benefit from Jacob if he would simply recognize and accept this covenant. So let's see how Jacob responds…
Genesis 28:16-21 Then Jacob awoke from his sleep and said, "Surely the Lord is in this place, and I did not know it." And he was afraid and said, "How awesome is this place! This is none other than the house of God, and this is the gate of heaven!" Then Jacob rose early in the morning, and took the stone that he had put at his head, set it up as a pillar, and poured oil on top of it. And he called the name of that place Bethel; but the name of that city had been Luz previously. Then Jacob made a vow, saying, "If God will be with me, and keep me in this way that I am going, and give me bread to eat and clothing to put on, so that I come back to my father's house in peace, then the Lord shall be my God.
Jacob made a pillar or "monument" to mark this occasion… not to remind him that he had been on the run from his family who he had failed, but as a permanent reminder that even in this dark place the Lord was STILL seeking Him and offering Jacob a path to his destiny. And later on, in yet another time of family distress, this monument served a critical purpose, as Jacob returned to it as a reminder of how the Lord had been with him before, and would continue to be with him through the ENTIRE journey that stretched ahead… the good parts as well as the bad.
Genesis 35:1-3 Then God said to Jacob, "Arise, go up to Bethel and dwell there; and make an altar there to God, who appeared to you when you fled from the face of Esau your brother." And Jacob said to his household and to all who were with him, "Put away the foreign gods that are among you, purify yourselves, and change your garments. Then let us arise and go up to Bethel; and I will make an altar there to God, who answered me in the day of my distress and has been with me in the way which I have gone."

Genesis 35:9-14 Then God appeared to Jacob again, when he came from Padan Aram, and blessed him. And God said to him, "Your name is Jacob; your name shall not be called Jacob anymore, but Israel shall be your name." So He called his name Israel. Also God said to him: "I am God Almighty. Be fruitful and multiply; a nation and a company of nations shall proceed from you, and kings shall come from your body. The land which I gave Abraham and Isaac I give to you; and to your descendants after you I give this land." Then God went up from him in the place where He talked with him. So Jacob set up a pillar in the place where He talked with him, a pillar of stone; and he poured a drink offering on it, and he poured oil on it.
This monument was not built to cause Jacob shame when he saw it… it was designed as a place he could come back to any time he needed to be reminded of the calling of the Lord that was on his life. A calling that the Lord had not removed despite all of Jacob's many shortcomings. And this monument was not just for Jacob's benefit, but for the benefit of his children, his children's children, and for absolutely anyone else who was stuck in a similar place and needed to be reminded of this eternal truth… that the Lord shows us mercy even in our disobedience and will do the same for ALL who will come to Him.
Romans 11:29-31 For the gifts and the calling of God are irrevocable. For as you were once disobedient to God, yet have now obtained mercy through their disobedience, even so these also have now been disobedient, that through the mercy shown you they also may obtain mercy.
Let me say this as directly as I can… who you WERE is not what you ARE, and what you ARE is not what you WILL BE (2 Corinthians 3:18). We have ALL sinned and fallen short of the mark (Romans 3:23), but our past does not define our present or determine our future. The Lord in His infinite grace has chosen to make us living stones… walking monuments of Christ's endless love and faithfulness to us (1 Peter 2:5-6) for the purpose of revealing His love and purpose to others through our testimony.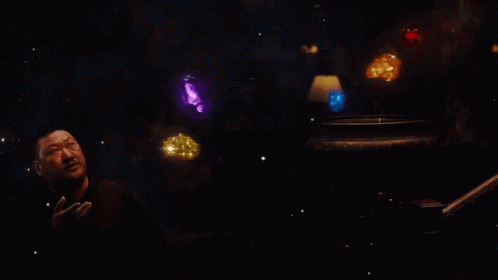 Let's get back to these Nintendo retro releases before we wrap up. These games that exist as "monuments" to our gaming past are not coming to us to reflect poorly on the history of gaming or tarnish their legacies… instead, they provide context to the games we currently enjoy now. Without Super Mario 64 we never would have gotten Super Mario Odyssey… and there would not be a Legend of Zelda: Breath of the Wild without Legend of Zelda: Ocarina of Time blazing the trail first. Are they perfect? FAR from it. But they ARE the building blocks that led to the future that we (and all future gamers) will get to enjoy. Oh… and what about Bubsy 3D? That's a fair question. And the good news is that even those abominations of gaming that are difficult to look back on still serve a purpose… a reminder of where we once were so we can fully appreciate how far we have come and the amazing promises that still lie ahead.
The monuments of the past that exist in our lives are not there to remind us of our failures, missed opportunities, and wasted potential, but to put the Father's love into proper context. They stand as a permanent reminder that at our worst, He loved us the most. Monuments don't define who we ARE… they remind us of who we WERE before the Lord graciously saved us. They are testaments of how deep Christ's love stretched to reach down and rescue us (Ephesians 3:17-19)… and they exist to inform others that no matter where they currently are, they too can be received with His full redemption, love, and grace that we currently enjoy. Don't look back in shame and regret… look back in wonder and awe that at our lowest point He carried us to places we could never reach on our own. And look forward in joy knowing that the Lord who loved us THIS much has even greater plans in store for us. We all have parts of our past that we would prefer to leave behind… but these do not exist as monuments to our shameful faithlessness, but to His endless FAITHFULNESS. Play your song without shame… "rock people" just like you and me are waiting to hear some good news and a reason to dance again.
Like us? Follow us on Instagram, Twitter, Facebook, TikTok, or YouTube for our articles and videos!
Facebook: Finding God in the World of Video Games
Twitter: @FindingGodIn_VG
Instagram: Finding God in Video Games
TikTok: @FindingGodInVideoGames
YouTube: Finding God in the World of Video games
Video versions of our articles are available here: