It is finally HERE… the Mass Effect Remastered trilogy that was rumored, mentioned, promised, and finally DELIVERED. All three of the GOOD Mass Effect games (sorry Andromeda… we both know it's better this way), all fully remastered not only for improved visuals, but to create a consistent gameplay experience across all three titles. And it is HERE. It has REALLY happened. This is the DEFINITIVE collection of what has to be considered the most innovative and interconnected gaming trilogy ever released, and there is a LOT to love. It has been a long time coming, and when securing my copy I have to admit I felt a little bit like Rose from the Titanic… as I gazed at the shiny cellophane on the game I had given up wishing for, all I could think of is that classic line… "It's been 84 years…"
Ok… maybe it has only been a little over thirteen years since the first one released. But it FEELS a whole lot longer. Just ten years is a LIFETIME in video games…I mean think about it. Ten years ago the first of four hundred different releases of Elder Scrolls: Skyrim was released. Yep, that was TEN years ago. Want to feel even older? Ten years ago was when MINECRAFT released. YES… THAT Minecraft. So it is no surprise that our games have experienced some pretty significant upgrades since the original Mass Effect released as an Xbox 360 exclusive so many years ago. While the scale of the dialogue options remain as impressive today as they were back then and the game still packs a pretty immersive story, if there was one item on EVERY gamer's wish list with this game, it had to be the HORRIBLE controls for the worst driving vehicle in the history of video games, the Mako.
The Mako was more than just a space truck that handled about as well as a group of eels ice skating. While covered in mayonnaise. But to the delight of ALL the gamers who joined "Mako Anger Management" groups over the years, the controls of the Mako are ALSO getting a complete remaster. This is not just some new coat of paint either… the Mako has been redesigned from the ground up to insure newcomers to the series NEVER have to know the pain of driving the original. Unless, you know… they REALLY want to. Because in a bizarre twist of events, the developer who OPENLY acknowledged the original controls were painful to play with made a "fun" decision… the ORIGINAL broken Mako controls are still an option for those who want to experience the horrors of controlling this monstrosity in its original incarnation. As you can see by the small collection of articles I have scraped together (there are many more), there really can only be ONE question to ask those who knowingly choose this pain… 'WHY???!!!!!"
As a Mass Effect aficionado who has bought, rebought, and played every game in the series multiple times, I believe I am amply qualified to ask that question. Why, when an easier and superior way to experience the game exists, would we choose an inferior option? I mean, let's be honest… 99% of the reason we wanted a remaster was BECAUSE of the Mako controls! Why would ANYONE want this? But I also have to admit that a reason exists for consciously choosing the path of a more painful, bitter, and difficult experience… and I am not just talking about the Mako truck. It is a choice that sadly MANY of us make every single day… and we may not even be fully aware of the choice we are making or the reasons why we have chosen it.
Throughout the Bible we see instances of people who struggle with accepting the free gift of their Creator's love, and for a variety of reasons. But nowhere is this more clearly demonstrated than in the story of the prodigal son that Jesus shared in Luke 15. Now I know what you are thinking… how could this infamous story have anything to do with me? Well, before you decide that this one isn't for you, stick with me for a minute. Because this story is not about the sinful fall of the wayward son… it is about the mindset he carried with him as he came back to the Father after a life spent in a state of moral failure. But as a refresher, let's just review his fall from grace…
Luke 15:11-19 Then He said: "A certain man had two sons. And the younger of them said to his father, 'Father, give me the portion of goods that falls to me.' So he divided to them his livelihood. And not many days after, the younger son gathered all together, journeyed to a far country, and there wasted his possessions with prodigal living. But when he had spent all, there arose a severe famine in that land, and he began to be in want. Then he went and joined himself to a citizen of that country, and he sent him into his fields to feed swine. And he would gladly have filled his stomach with the pods that the swine ate, and no one gave him anything. "But when he came to himself, he said, 'How many of my father's hired servants have bread enough and to spare, and I perish with hunger! I will arise and go to my father, and will say to him, "Father, I have sinned against heaven and before you, and I am no longer worthy to be called your son. Make me like one of your hired servants."
After making all the wrong choices, the son realized that the better life that he had been searching for could only be found in the presence of his Father. But he also recognized the sheer volume and weight of his sins, and in his shame he could not even bring himself to ask for restoration as a son. He had made the decision to return home and submit to the Father and His will, but inwardly he had demoted himself to the role of an employee in his Father's house. And I know many, MANY people who have done the exact same thing. I know because I have ALSO done this.
After going my own way and making choices that I am completely ashamed of, I looked down at the pig sty of a life that I had created and I didn't like the reflection staring back at me in the muddy water. And sitting in that pit of shame, I KNEW that I wanted to return to the Lord… but I also knew that I had completely disqualified myself from being worthy of even the LOWEST of His mercies. I wanted to reunite with the body of Christ, but I couldn't raise my eyes to meet the judgmental gaze of my brothers and sisters who knew EXACTLY where I had been and what I had done. But maybe…just maybe… perhaps they would accept me if I worked for it? If I EARNED my place? If I atoned for mistakes and failures through a lifetime of indentured servitude to the Lord? And that is where I believe many of us openly choose the "broken Mako controls" over the new, upgraded, remastered controls that are available to us… more times than we may even realize.
If we are honest with ourselves, most of us can relate to this feeling at some point. Maybe you are dealing with it right now. And it can come and go throughout our faith walk if we aren't careful, stealing our joy at being redeemed and pushing us back down into a hole of shame as we relive our sins and failures… and as a result disqualify ourselves from embracing the free gift of grace and redemption that we have been given. We try to flash a smile while singing along to "Amazing Grace", but when we get to the phrase "Saved a wretch like MEEEEEEEeeee"… well, that part can be as awkward as a Ryder trying to smile in Mass Effect Andromeda.
So let's see the Father's response to his son's request to return to the family and "earn" his place by playing with the "old Mako controls"…
Luke 15:20-24 "And he arose and came to his father. But when he was still a great way off, his father saw him and had compassion, and ran and fell on his neck and kissed him. And the son said to him, 'Father, I have sinned against heaven and in your sight, and am no longer worthy to be called your son.' "But the father said to his servants, 'Bring out the best robe and put it on him, and put a ring on his hand and sandals on his feet. And bring the fatted calf here and kill it, and let us eat and be merry; for this my son was dead and is alive again; he was lost and is found.' And they began to be merry.
The Father didn't even ACKNOWLEDGE his little prepared speech or his offer of servitude in exchange for food and shelter. He was instantly and immediately RESTORED to his status as his Father's son… he didn't simply receive new clothes, he received the BEST robe. He didn't exchange work in the devil's pig sty for work in the Father's pig sty… he was EMBRACED and CELEBRATED. And I need to tell you something right now as emphatically as I can… YOU ARE WELCOME HOME. Not as a servant earning your way back, but as a CHILD of the Father. The BEST robe belongs to you. The music you hear? It is for YOU. The party? It is in YOUR honor. Because you BELONG to this family, no matter how far you have run, regardless of how deeply you have fallen, and in spite of how recently you have sinned. And you aren't here as a second-class citizen or an unworthy servant trying to earn their way back… you have been RESTORED. I implore you… STOP believing any lies that you have been told about what you are no longer qualified to do, who you are no longer permitted to be, or accepting that you are allowed to return to playing this game as long as you play with those broken, shoddy, painful Mako controls. You have been REMASTERED as His child in His kingdom… and you don't have to serve in the pigpen any more.
True… you aren't worthy of His love and forgiveness. Neither am I. NONE of us are. We would all be LUCKY to simply polish the streets of gold in His kingdom and unclog the toilets. But that is not the lesson of the prodigal son. Never forget… the prodigal son STARTED the story as a son. This is not the story of a sinner finding their way back to God… this is the story of a SON who was ALREADY IN THE FAMILY… a child who made the decision to leave for a life of sin, and then chose to return. True, the prodigal son still had his haters who thought the path should have been harder for him, acceptance should have been earned, and grace was too good for him (Luke 15:25-32). But God's grace is too good for ANY of us. We don't get to choose who receives it, and we certainly don't get to make the path more difficult to enjoy it out of some misguided attempt at "fairness". All who are willing to come get to stand here, in this place, embraced by the Father as a welcomed child of the King and loudly proclaim, "This is my favorite spot on the Citadel"… no matter how you got here.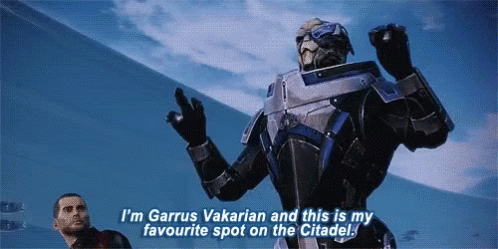 If you are struggling to play this game with the old Mako controls… you don't HAVE to. There is a better, easier way. The way of grace. The way of restoration. It does not MATTER what you were, what you have done, or why you did it. This new "remastered" way of living is for ALL of us. Embrace His grace FULLY and move past ANY of the controls that your past may be trying to place on you. You are a NEW creation in Christ (2 Corinthians 5:17), and those old things are behind you. Leave them in the pig sty with those old Mako controls… back in the past where they belong. You are a "Remastered" child of God with ALL the privileges that come with that title. So, let's jump into this new and improved Mako and save this world together… as brothers and sisters in Christ united by this shared, unmerited, AMAZING grace that we all get to shamelessly enjoy.
Like us? Follow us on Instagram, Twitter, Facebook, or YouTube for our articles and videos!
Facebook: Finding God in the World of Video Games
Twitter: @FindingGodIn_VG
Instagram: Finding God in Video Games
YouTube: Finding God in the World of Video games
Video versions of our articles are available here: