We all play games for different reasons… maybe it's the sense of competition, the opportunity to lose ourselves in a story, or maybe just to connect with others socially while enjoying a game. And then there are people like ME. Now to be fair, I play games for all of those reasons… but none of those justify why I have racked up 1,000 achievement points on some truly terrible games such as Eragon or Avatar. Or why I have ANY POINTS AT ALL on broken and frustrating titles such as Vampire Rain or Two Worlds. And don't get me started on the fact that I actually played and COMPLETED the video game based on the movie "Jumper". All of those games were awful, and honestly they weren't very fun to play. So why did I play them? For the worst reason of all… for the ACHIEVEMENT POINTS. I know, I know… I am ashamed of me, too. I was unwell… I even played the BURGER KING games of my own volition for crying out loud.
While achievement points and trophies can be a fun way to track your progress in a game or demonstrate your mastery over a particular set of challenges, there is a dark side to the path of the "achievement hunter". Over the years I have amassed over 90,000 of these relatively meaningless "achievement points", and within that list there are some fairly painful admissions. At many different times in my past I have been guilty of playing some truly awful, horrible, irredeemable, epically BROKEN games simply to grind out these achievement points. At one time they were a goal I actually cared about, and to my shame even BRAGGED about… now they are only marks of shame that I have to explain to others when they look at my achievement list and wonder how some of those got there. And no matter how much I would like to erase them… I can't. They are there for as long as my gaming profile exists, a permanent reminder of how low I once sunk in my pursuit of "glory". They are the gaming equivalent of a lower back tattoo that says "This guy actually played Space Giraffe".
Many times it can feel this way in the real world too, as we all can feel like we are carrying around our life before Christ as some form of a "spiritual tattoo" that is visible to everyone even when we are trying to live life as a "new creation in Christ", as Paul tells us in 2 Corinthians 5…
2 Corinthians 5:17 Therefore, if anyone is in Christ, he is a new creation; old things have passed away; behold, all things have become new.
But let's keep it real here… it can be hard to feel like a new creation when we still mentally, spiritually, and even physically can still carry the "Scarlet letter" of our past around with us. Fortunately, we are not alone in this challenge and have an EXCELLENT example for overcoming this challenge. The woman who was one of Christ's dearest friends and most loyal supporters… Mary Magdalene. Two millennia ago the world was a much different place, and especially for women. Men dominated the political, military, and financial world to a great degree and in the culture Mary grew up in, women were often treated as commodities or assets, a symbol of status for their spouse and valued for their skills more than their substance. Hmmm… on second thought, maybe the world hasn't changed all that much, to our shame. But I digress… let's keep our eyes on Mary as she is destined for a place in history that no man will ever hold.
Mary Magdalene is only mentioned in scripture a handful of times… we first see her as a footnote to the followers of Jesus, with the side note that she had seven demons cast out of her.
Luke 8:1-2 Now it came to pass, afterward, that He went through every city and village, preaching and bringing the glad tidings of the kingdom of God. And the twelve were with Him, and certain women who had been healed of evil spirits and infirmities—Mary called Magdalene, out of whom had come seven demons
Without diving into this too deeply, let's just say that's seven more demons than one would want to carry around with you if you had a choice in the matter. Mary had an identity that was unfortunately based on who she WAS, and was apparently most well known for what she had been delivered from. I know I have been there, and I am sure many of us have been. Let's continue on… after her deliverance she is noted as a follower of Jesus and included in the group of women who were his loyal providers (Luke 8:2-3). We get limited glances at Mary over the next several chapters as her story is overshadowed by the boisterous Peter, the fiery James and John, and the traitorous Judas… but her relegation to the shadows only serves to underscore what will follow.
After Jesus's death and burial, almost all of the "manly men" who made up the frontline disciples were in hiding, too fearful to show their faces in public as they chose the path of least resistance. But not our Mary Magdalene. Oh no, she was right there at the foot of the cross, staying with Jesus until the bitter end (Matthew 27:61). Did I say bitter end? She wasn't even finished at that point… Mary certainly wasn't about to let her Lord lay in a tomb without the proper respect given and honor services performed, regardless of consequences. With a boldness that all the bearded, macho, muscular men around her lacked, Mary and a collection of loyal female followers marched to the tomb to show their commitment to the one Man who had never let them down, even in death.
John 20:11-17 But Mary stood outside by the tomb weeping, and as she wept she stooped down and looked into the tomb. And she saw two angels in white sitting, one at the head and the other at the feet, where the body of Jesus had lain. Then they said to her, "Woman, why are you weeping?" She said to them, "Because they have taken away my Lord, and I do not know where they have laid Him." Now when she had said this, she turned around and saw Jesus standing there, and did not know that it was Jesus. Jesus said to her, "Woman, why are you weeping? Whom are you seeking?" She, supposing Him to be the gardener, said to Him, "Sir, if You have carried Him away, tell me where You have laid Him, and I will take Him away." Jesus said to her, "Mary!" She turned and said to Him, "Rabboni!" (which is to say, Teacher). Jesus said to her, "Do not cling to Me, for I have not yet ascended to My Father; but go to My brethren and say to them, 'I am ascending to My Father and your Father, and to My God and your God.' "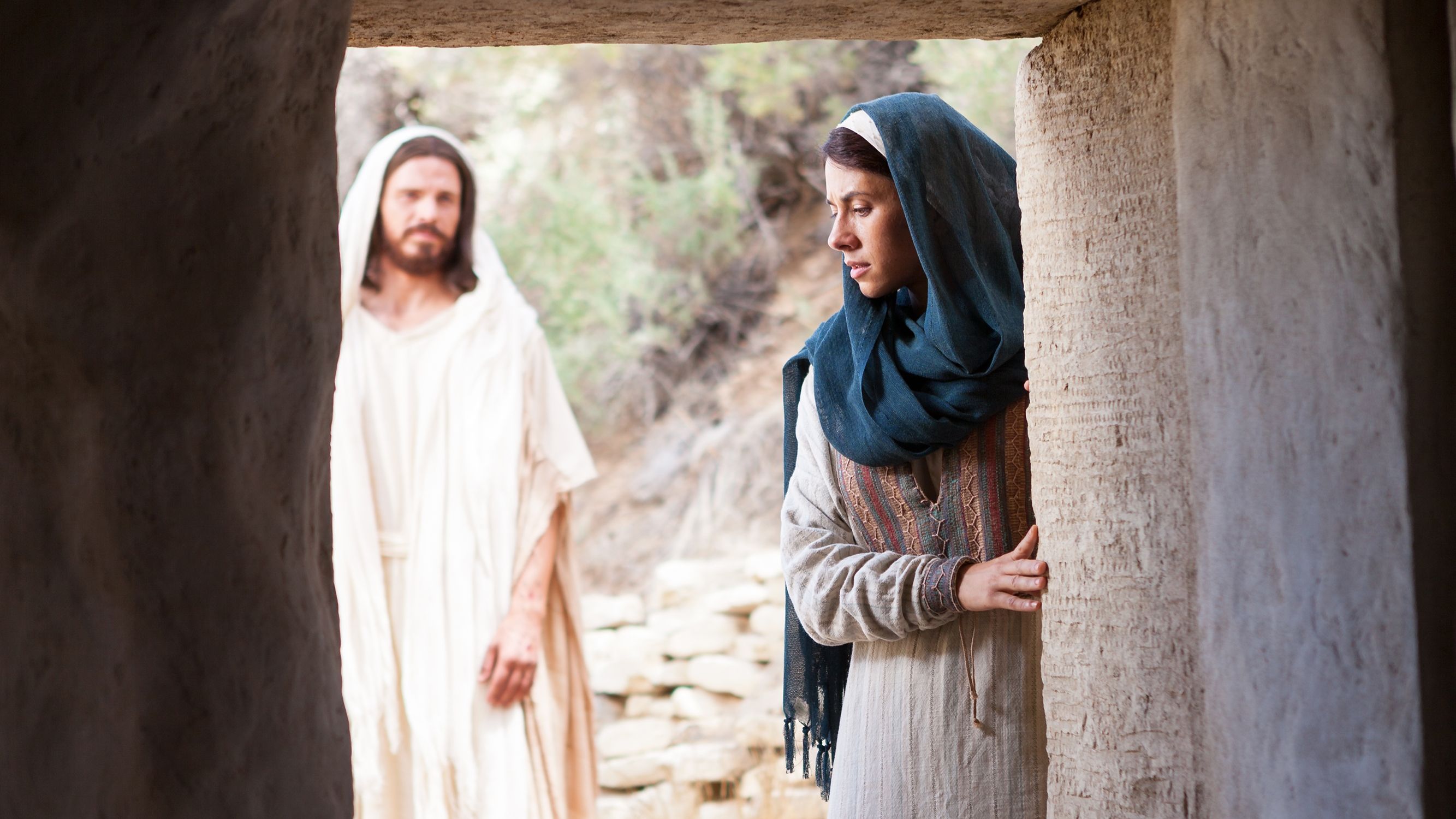 And this is where the story hits home, as we see Mary Magdalene standing outside the tomb of Christ, weeping. In John chapter 20 verse 11 we pick up with her peering into the empty tomb. And in this moment, her weeping and searching for her fallen Master LITERALLY interrupts Jesus on His way back to the Father. Let that sink in for a moment… Jesus, having just accomplished his earthly mission and heading back to Heaven, observes this loyal follower and can't help Himself but to stop and comfort her. When she realizes it is Him, He even informs her that she cannot touch Him because He has not yet ascended to the Father… and right there I would like to pause and absorb that. Jesus STOPPED on his way to God the Father… for Mary Magdalene. Why? It is simple… because she was searching for Him. And He has committed to being found by ALL who search for Him.
Maybe you have things in your past that bring you shame, even if you have already been delivered from them. I have carried that guilt myself much longer than I ever should have, allowing myself to be defined by the knowledge of what I was delivered from instead of who I now belonged to… much like Mary's deliverance seemed to be the most noteworthy part of her at first glance. But that is not the end of our story… and it does not define us. It is how closely we choose to stick to Jesus that will determine what our lasting "achievements" truly are. Mary will always be known as the woman who brought the ascending Son of God to a standstill outside of His empty tomb. Cast off the old descriptors on your life and embrace your pursuit of a relationship with Him as the defining characteristic of your life… He has stopped what He is doing to see how we respond to His call!
Like us? Follow us on Instagram, Twitter, Facebook, or YouTube for our articles and videos!
Facebook: Finding God in the World of Video Games
Twitter: @FindingGodIn_VG
Instagram: Finding God in Video Games
YouTube: Finding God in the World of Video games
Video versions of our articles are available here: