Call of Duty waited until the eleventh hour to finally unveil this year's release in their long-running annual franchise… Cold War. Every year Activision tries their best to raise the bar by packing in more of EVERYTHING… more guns to unlock, more action set pieces to explode, more modes to explore… just MORE. And this year all of this "More" is going to take up a LOT more space… 100GB install space on your hard drive just to get you started. This is seriously ten pounds of Call of Duty in a five pound bag for anyone who is still using a 500GB Xb1 or PS4, and there a whole lot of those out there right now. And this is just the day ONE install… as we all know Call of Duty has multiple expansions throughout the year that add ADDITIONAL content, and while all of that extra content will be free this year (thankfully), it is going to also take up even MORE space. I think we are going to need a bigger bag…
Now sure, you can probably pick up an external hard drive for around one hundred bucks to create enough space to add this to your gaming library. But for those who can't afford this or simply don't want to buy a hard drive just to experience this year's Call of Duty, some tough choices are going to have to be made. A long, hard look at the current games that populate your hard drive are going to need to be reviewed to determine if they are still worthy to occupy this precious space, and some simply may not be counted as worthy. There isn't anything wrong with them per se… they are still probably great games that in any other setting would be lovingly maintained for years and years to come. Well…except for Anthem or Fallout 76. If you still have those on your hard drive, I don't even know what you have been waiting for. But I think I speak for all of us when I say it's time to let them go.
So how do we decide what makes the cut, and what takes a one-way trip to the virtual recycle bin? We don't even know if this year's COD is going to be good enough to warrant the 10-20% of our total console space it will require, further complicating the process as each game, big or small, is evaluated against an unknown variable to decide if they are worthy to keep their spot on our hard drives. So long, Gears of War…. you deserve more attention than I can give you. Destiny 2? It was over between us a while ago, so now all that remains between us is for me to finally let you go. Bubsy 3d? Oh, who are we kidding.. I never bought that game. I am hoping NOBODY did.
It is possible to get where we need to in order to make enough space for Call of Duty, but not without some sacrifices, some of which may be more painful than others. These games may just be blocks of space on a hard drive, but they represent far more than that. They represent memories… meaningful experiences… and for most of us emotions are attached to these as well. Whether it was a gaming character that carried us through some real-world stuff more than we care to admit, or maybe it was simply a rough patch of our lives that this game carried us through… either way it can be hard to let these experiences for the unproven future of a fresh opportunity.
The truth is that in our gaming experiences, as well as life itself, we can measure the value of something by a much more accurate system than simply applying a metric to what it COSTS. A far better way to measure value is by what we are willing to GIVE UP for it. For example, if a person is fabulously wealthy, it is relatively meaningless from a financial standpoint if they offer to buy someone else dinner at a restaurant. However, for someone in a much more challenging financial situation who may be choosing between food for themselves or someone else, this would be a much larger gift. Both of these cost the exact same amount of money… but one requires a sacrificial level of giving while the other is simply a kind gesture. We see this same principle in play when Jesus compares the widow who gave her remaining (but limited) offering to God next to others who had much more to give…. and He makes it clear that it is not the amount in terms of the value, but the actual COST to the giver that makes the gift valuable.
Luke 21:1-4 And He looked up and saw the rich putting their gifts into the treasury, and He saw also a certain poor widow putting in two mites. So He said, "Truly I say to you that this poor widow has put in more than all; for all these out of their abundance have put in offerings for God, but she out of her poverty put in all the livelihood that she had."
In a world where it can be hard to see God's love through all the chaos that we as humans have created, many often look at God and see only what He DOESN'T do for us… He doesn't give us world peace, He doesn't cure EVERY sick or dying person, and He doesn't answer every prayer exactly the way we want Him to, right when we want it. And sadly, many people interpret that as a lack of love on His part, because they know that if God is as big as the Bible says He is, then He has the ability to give ALL of these things. He is simply choosing not to. As a result, I have spoken to many people who truly believe that God does not actually LOVE them… not because of what He has done, but what He hasn't. A God with infinite riches, power, and love can give literally ANY gift without any actual cost to Himself… so how should we interpret this?
Paul writes in Ephesians a prayer for the people he is writing to… a prayer that they would be able to comprehend how wide, how long, how deep, and how high the love of Christ is. A love that, to quote Paul, "passes all knowledge"…
Ephesians 3:14-19 For this reason I bow my knees to the Father of our Lord Jesus Christ, from whom the whole family in heaven and earth is named, that He would grant you, according to the riches of His glory, to be strengthened with might through His Spirit in the inner man, that Christ may dwell in your hearts through faith; that you, being rooted and grounded in love, may be able to comprehend with all the saints what is the width and length and depth and height— to know the love of Christ which passes knowledge; that you may be filled with all the fullness of God.
So how do we take this immeasurable love that God has for us and understand it in the scope of the world around us? I am going to ask you to read this next verse as if you had not already heard it a billion times, because I think it has unfortunately become so well-known that we can take it for granted if we are not careful…
John 3:16-17 For God so loved the world that He gave His only begotten Son, that whoever believes in Him should not perish but have everlasting life. For God did not send His Son into the world to condemn the world, but that the world through Him might be saved.
I hope you caught that… God possesses EVERY thing, exists outside of time and space, and is not constrained by anything other than His own choices. He can literally give ANY gift… but there was only ONE gift that He possessed that would truly COST Him. He has ONE Son…. and that is what He chose to give. And unless you are a parent yourself, it can be hard to understand what these verses are saying. God could have sent infinite supplies of money, food, rain, crops… you name it. But all that would do is make our short sojourn on this planet a little more comfortable. Maybe TOO comfortable… comfortable enough to die in our sins. Instead, he gave the ONE gift He could never replace… the most valuable gift He possessed. Not for our comfort, but for our eternal salvation.
We can complain all day long about the consumable gifts in this life that the Father does not grant us… but the truth is that He gave something NOBODY else could have or ever would have given, and He did it out of LOVE. He COULD have given up on his creation after seeing what we were capable of. He could have just burned this thing down and started over, or doomed us to eternal torment the way he did the fallen angels. But instead He sent the most precious gift He had… His Son. And for a Parent to send their Child… their ONLY Child…far away from the safe confines of Paradise to a war-torn, sin-ravaged planet, that is hard to understand. And then to do that knowing you will have to watch as they are mistreated, rejected, beaten, mocked, and MURDERED…. that is a gift I don't think ANY of us would ever have the strength to give.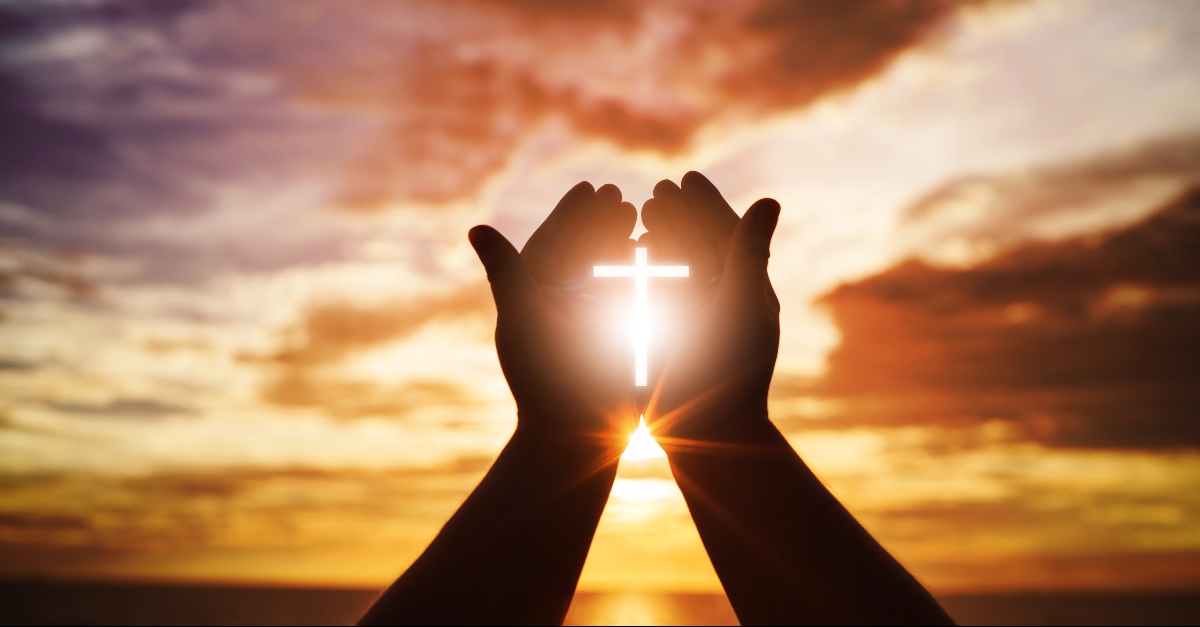 It would take a love that frankly we cannot comprehend, to send our child as a sacrifice for an ungrateful planet full of people who would reject them and cruelly torture and kill them. It's a love that I will NEVER fully understand… but fortunately we don't have to. We only have to receive it and give it to others as freely as we have received it. God did more than delete some stuff off of His hard drive to make room for us… He gave up the only thing that mattered to make room for us at His table. He is offering a PERMANENT place in the most secure storage on the planet, and it is all because of LOVE… not obligation, debt, or requirement, because He owes us NOTHING. We are not even worthy of the smallest gift He possesses, yet He gave the most priceless of all He has.
I hope this encourages you as we endure those periods of life where it can be difficult to fully see the love of God through all of the mess, the heartache, and the pain we see in this fallen planet… His love is not only still there, but is has never diminished or wavered. As a matter of fact, His love was at its strongest when we were at our most weak, sinful, and despicable point. THAT'S how wide, how long, how deep, how high, and how STRONG His love is for YOU and every single one of us. He gave when He didn't HAVE to, and He gave the only thing He truly valued… because He valued eternal fellowship with YOU even more. He wiped His entire hard drive for us… the only question that remains is will we make room in ours for Him?
Like us? Follow us on Instagram, Twitter, Facebook, or YouTube for our articles and videos!
Facebook: Finding God in the World of Video Games
Twitter: @FindingGodIn_VG
Instagram: Finding God in Video Games
YouTube: Finding God in the World of Video games
Video versions of our articles are available here: