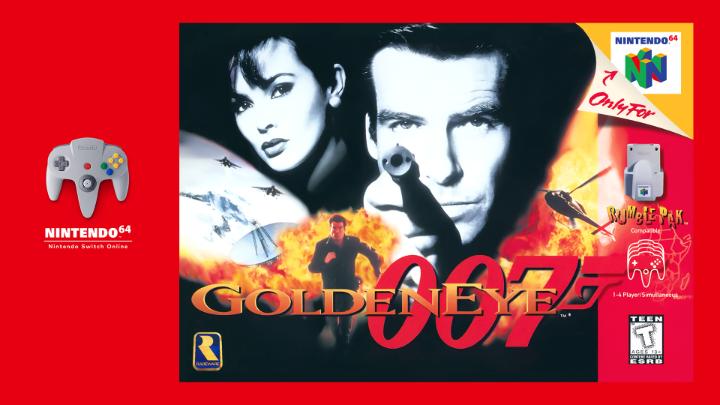 There are iconic games that define their generation, and then there is GoldenEye… arguably one of the greatest games to come out of the Nintendo 64 era. And after all of these years, the original GoldenEye has found its' way back to reclaim its' former glory on both the Xbox and the Nintendo Switch, giving both original fans as well as those who have never played this game in its' original form an opportunity to see if it still stands up. For a variety of reasons, GoldenEye never received a proper sequel, and a reboot attempt using the name but failing to keep the spirit of its' predecessor fell flat. But now it is HERE, complete with a fresh coat of paint and beckoning all who wander in its' direction to give it a try. So… why am I not as excited as I should be for this classic title to make its' return? The answer is a bit complicated.
See, for me GoldenEye was about more than simply the gameplay or the graphics, which for its' time were cutting edge. Sure, it looked and played great and redefined the shooter genre for many gamers, but the experience of playing GoldenEye was about more than simply the game… it was about how and who you played it with. And as great as the updated version of this classic title may be for many of us to play and enjoy a brief blast of nostalgia, there simply isn't a path to recreating the parts of the game that make me look back at it fondly. GoldenEye was a game that brought people together in a very literal sense… the split-screen multiplayer mayhem of this title was the feature attraction, spawning a generation of gamers who would go on to make the "Halo LAN party" a weekly event. I know, because I am one of those people.
GoldenEye was the game that brought everyone from my neighborhood friends, my family members, and my schoolmates together into one physical place to game together… a space that represented the entire spectrum of humanity in one room munching on pizza and chips as we eagerly awaited "our turn". A simpler time when the competitive banter between rounds was always good-natured and the room was full of laughter… we were all just fellow gamers celebrating our mutual love and passion for gaming. And the path to recreate THAT experience and the feeling is a whole lot more challenging than simply rereleasing a game on the consoles I currently possess. In the over two decades of time that has passed since this game hit store shelves for the first time, all of my friends and family I gamed with back then have slowly gone our separate ways… almost all of us live in different states now, some of us are no longer in contact, and many are sadly no longer with us. Several have moved past gaming as a hobby, as they never truly connected with the world of gaming beyond this one title, making GoldenEye merely a phase that they outgrew. The handful of us who are still into gaming could certainly purchase the Switch version to try the online multiplayer and see if it resonates with us again, but it won't be the same and we all know it. Advances in technology has made the ideas of getting together to play GoldenEye in someone's living room or setting up a Halo LAN party in someone's basement obsolete… and the paths that many of us chose in our personal lives made such a return physically impossible. And because of this, something that was so beautiful in its' simplicity, bringing people from every walk of life together through celebrating what we had in common and keeping us connected through even our most challenging times, was lost and now exists solely in our memories.
Now to be fair, not everyone has felt the same experience in this realm… there are certainly some of these "LAN parties" that may have left people feeling even more discouraged or alone because those who hosted or participated in the event did not come with good intentions. But when done right, there simply isn't a comparable gaming experience on the planet. And when people question why I love the world of gaming, it is ultimately because of THIS… the strange ability this hobby has to make connection points with people and bring us together in a way that defies description and has very few parallels. A place of safety and mutual passion that unites us across our various fandoms as we laugh, cry, and rejoice, making us part of one "family". That was what GoldenEye represented to me… a world where just about anyone was one controller hand-off away from being a new teammate. That was what a Halo LAN party was all about… finding this simple commonality with someone that would blossom into a true friendship. That is the experience that this release of GoldenEye can't unfortunately bring back… but maybe there is something else that can.
In a world where the technology that we leverage to keep us connected can often result in us rarely truly "connecting", we are slowly losing the most essential part of our humanity… the part that brings us together and makes us part of one "body". And even in the body of Christ, we can see cracks in our foundation as "the church" finds new ways to split into smaller pieces with every passing year, losing our sense of community and becoming as broken as the very world we are trying to reach. In a space that was designed to honor diversity (Revelation 7:9-10) and create a welcome space for all who are "weary and heavy-laden" (Matthew 11:28), we unfortunately offer simply a different warzone with a new group of internal factions to navigate. But the body of Christ was never meant to operate as lone wolves on this battlefield… we were designed to function as a holistic body of believers fully respecting the unique functions of others.
1 Corinthians 12:12-18 For as the body is one and has many members, but all the members of that one body, being many, are one body, so also is Christ. For by one Spirit we were all baptized into one body—whether Jews or Greeks, whether slaves or free—and have all been made to drink into one Spirit. For in fact the body is not one member but many. If the foot should say, "Because I am not a hand, I am not of the body," is it therefore not of the body? And if the ear should say, "Because I am not an eye, I am not of the body," is it therefore not of the body? If the whole body were an eye, where would be the hearing? If the whole were hearing, where would be the smelling? But now God has set the members, each one of them, in the body just as He pleased.
When I hear people talk about "attending church", there is typically one verse that gets brought up each and every time… but it is not always kept in the proper context of what is ACTUALLY being said by the author of the verse. You may be familiar with this one on some level…
Hebrews 10:24-25 And let us consider one another in order to stir up love and good works, not forsaking the assembling of ourselves together, as is the manner of some, but exhorting one another, and so much the more as you see the Day approaching.
So, let's push pause on the game for just a second… first of all, the PURPOSE of assembling ourselves together is to help us be CONSIDERATE to one another, stirring up love and good works in the process. If this is not the outcome of our "assembly", we have missed the point of the verse and the reason we are meant to be brought together entirely. But I really want to focus on the word translated "exhorting" in that verse, because that may not be a word we tend to use in our daily vernacular. The actual Greek word used here is "parakalountes", which is translated to comfort, encourage, and console. It is the active version of the word "parakaleó", which you may or may not recognize from Christ's message to His disciples in John 14 about sending a "Helper" or "Comforter" to us…
John 14:16-17 And I will pray the Father, and He will give you another Helper, that He may abide with you forever— the Spirit of truth, whom the world cannot receive, because it neither sees Him nor knows Him; but you know Him, for He dwells with you and will be in you.
The word for "Helper" in that verse? It is "paraklétos"… yep, the same word we had earlier, just used as a noun. When we consider that this word is made up of two Greek words meaning "to support from close beside", I think we can better understand our purpose in assembling together in the first place. Like my classic GoldenEye gaming experiences, the church is designed to operate "from close beside"… our "gathering together" is not about formulaic services that check boxes off on an agenda. That would be like saying playing GoldenEye was all about the game, when really it was about the unified experience that brought us together from completely different places and united us as a family of gamers. Halo LAN parties were less about the video game we were playing and more about the experience of everyone getting their stuff together and intentionally choosing to occupy a singular space at the same time to share in mutual gaming fellowship. And during those get-togethers, things would often "get real"… gamers would open up about problems at home, issues at work, and personal struggles we were facing. This "assembling" together would involve everything from laughter to tears, from handshakes to hugs. Win or lose, we would go home afterwards feeling like our load was a little bit lighter than it was before. We had been heard and understood, we felt a little less alone in the world, and we looked forward to coming to the next one. It was a beautiful time… a simpler time… and a time that doesn't have to disappear forever unless we choose to let it.
As the body of Christ, our "assembling together" is about performing the comforting, encouraging, and consoling work of the Spirit of God "up close"… from close beside each other. And in a hurting world that is crying out for ANY healing solution, THIS is what the body of Christ has to offer. We are called to be HELPERS, to be COMFORTERS, to console and encourage others… from alongside them, not just from afar. And as the body of Christ, we don't "attend" a church… we ARE the church. We carry this mission to be the physical arms that provide comfort, the shoulders to cry on, and the hands to pull each other up from wherever we have fallen. We choose when we "assemble"… and we don't need to wait for a specific day of the week or a particular building to be open to enable us to perform that function. We carry this treasure in these jars of clay we call our physical bodies (2 Corinthians 4:7), and we have been called and equipped to carry this light with us wherever we go (Matthew 5:16). The hurting souls around us aren't going to come to us… we must go to them (Luke 14:23). So, perhaps my "GoldenEye experience" isn't going to simply manifest itself and materialize the way I remember it. But recreating this experience is not up to GoldenEye, those who originally developed the game, or those who built this remastered experience… it is up to ME.
Our world is hurting… people are suffering… and hope is being replaced by darkness in every corner of our planet. There isn't a global answer that can solve any of these problems… like my GoldenEye experience, our advances in technology may actually be making many of these issues worse. But there IS a local solution… and the controller is in my hand and yours. WE are the church, and we don't need a building, a license, or denominational support and oversight to perform our mission. In my experience, the people who brought others together for these GoldenEye split-screen battles and Halo LAN parties didn't have the most money, the nicest home, or even the best gaming setup. They were simply the ones willing to open themselves up, invite others to the party, and make themselves and the limited resources they had available. Now, just as there are many people who have had bad experiences gaming with others in the past, our planet is packed with people who have had experiences with "the church" that has left them with a sour taste in their mouth towards the entire concept. But THIS is our calling as the body of Christ… to reach those who the Lord has placed in our radius with His comfort, encouragement, and consolation. To assemble with a PURPOSE, building each other up in our faith through being considerate to one another, stirring up love and good works from a close distance (1 Corinthians 14:26, Jude 1:20, Hebrews 10:24-25).
Ephesians 4:11-16 And He Himself gave some to be apostles, some prophets, some evangelists, and some pastors and teachers, for the equipping of the saints for the work of ministry, for the edifying of the body of Christ, till we all come to the unity of the faith and of the knowledge of the Son of God, to a perfect man, to the measure of the stature of the fullness of Christ; that we should no longer be children, tossed to and fro and carried about with every wind of doctrine, by the trickery of men, in the cunning craftiness of deceitful plotting, but, speaking the truth in love, may grow up in all things into Him who is the head—Christ— from whom the whole body, joined and knit together by what every joint supplies, according to the effective working by which every part does its share, causes growth of the body for the edifying of itself in love.
Now to be abundantly clear, there is a clear precedent in Scriptures for the intentional gathering of believers together for the purposes of edifying the body of Christ (Eph. 4:11-16). But there is a massive difference between attending a church for own personal development, participating in a church to support the growth of others, and BEING the church in our day to day lives for the purposes of reaching those who need the love and comfort brought to them in their place of need. Our opportunity to "be the church" may happen in the line for the self-checkout, while sitting at the break table at work, or even reveal itself through the very social media channels that enable many of our divisions. We don't have to be the best, the smartest, or even the most well-equipped… we just have to be WILLING. Willing to bring this "blast from the past" concept into our present, even when the technology and culture we are surrounded by often serves to drive us farther apart. Willing to show love through disagreement, grace through misunderstanding, and speak peace in the midst of chaos. Willing to be the place where healing can happen… one unique controller plugged into the source at a time.
Like us? Follow us on Instagram, Twitter, Facebook, Spotify, TikTok, or YouTube for our articles, podcasts, and videos!
Facebook: Finding God in Video Games
Twitter: @FindingGodIn_VG
Instagram: Finding God in Video Games
Podcasts on Spotify/Apple/Google: Finding God in Video Games
TikTok: @FindingGodInVideoGames
YouTube: Finding God in Video games
Video versions of our articles are available here: